Prussian Motors is owned by Merritt Hansen and Bobby Weaver. We are BMW and European sports car enthusiasts. We were tired of dealing with the nonsense that passes for service at most salvage yards so we started our own. We aim to provide our customers with friendly customer service and accurate parts and fitment information. When possible, we always provide OEM part numbers and paint codes to ensure compatibility for your vehicle.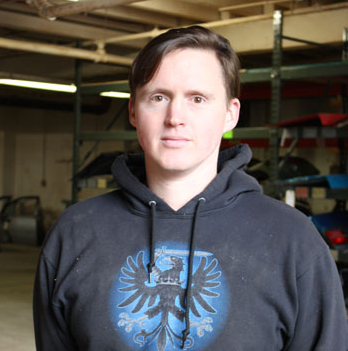 BOB WEAVER - CEO
Bobby has been in the automotive industry since 1999, working at a truck salvage yard for 9 years before co-founding Prussian Motors with Merritt. If you email or call Prussian Motors, chances are you'll talk to Bob. Aside from extreme horsepower, Bob's hobbies are working overtime, real estate, and water skiing. Bob's stable includes a Maximum PSI Stage 3 on Ethanol 2003 E46 M3 in Alpine White, a very boosted 1995 332ti (also Maximum PSI tuned), a stock 2001 E39 M5 in Carbon Black and a 2001 S54 M Coupe that was reconstructed after a total loss in the summer of 2017 Houston flood.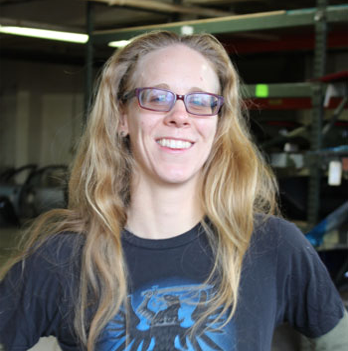 MERRITT HANSEN - PRESIDENT
Merritt worked in all areas of the fine jewelry business from sales to accounting for 8 years before co-founding Prussian Motors with Bobby. She is responsible for business development projects, all backend systems such as our IT network, custom inventory software, e-commerce store, accounting, and human resources. When not diagnosing a BMW she can be found playing with her chickens, in the garden, or at the beach. She daily drives a 1994 E34 530i sedan, the fun car is a 1997 E36 332ti (S52 swapped 318ti), and the current project is a 1991 325i sedan. All are Schwarz black.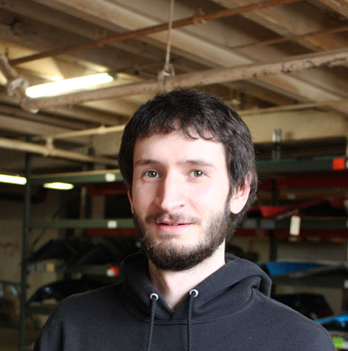 CHRIS DOMANICO - INVENTORY SPECIALIST
Chris has been with Prussian Motors since 2012. He photographs and accurately describes nearly all of our newly added inventory parts. His attention to detail and clear descriptions make our product listings exceptional. In addition to being a BMW aficionado, Chris is also an audiophile, music enthusiast, Apple computer geek, and car audio Basshead,. His partner in crime is a 2001 740iL in Stratus Grey.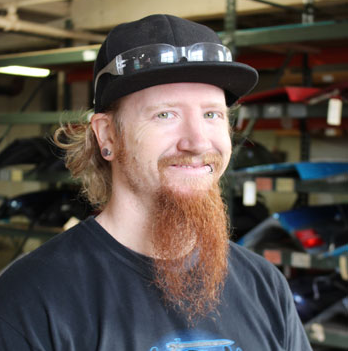 Thacher Torrance - DISMANTLER & SHOP FOREMAN
Thacher is a graduate of Automotive Training Center in Exton, PA. He has been expertly repairing BMWs since 2008 and started at Prussian Motors in 2012. Thacher is our mechanical prodigy. He fully dismantles every end-of-life BMW that comes through our doors, usually down to the pistons. He is also responsible for maintaining and repairing shop equipment and the rollback tow truck. Thacher can figure out how to fix just about anything. He is a dedicated Deadhead, driving his E46 Touring all over the country to shows with his family. Their BMW kids are an S54-swapped 2004 332xi Touring 6-Speed in Schwarz Black and a 2003 330xi Sedan in Titan Silver.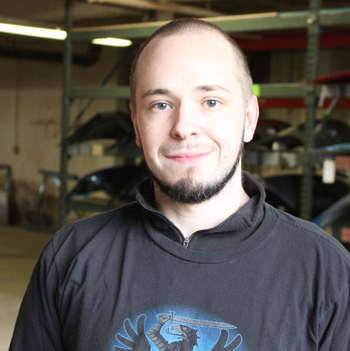 Marshall Bindrim – Operations Manager
Marshall joined the Prussian Motors team in 2016. He has taken the lead in many areas. Notably Marshall has more than doubled our rack storage and re-organized all of our parts, bringing sanity to overflowing shelves and bins as our inventory rapidly expands. He is also a Fitment expert, verifying and refining our part interchange information before uploading. Marshall helps out in all areas of our business from customer service and shipping, to graphic design and marketing. When not at work, Marshall oversees a CNC vinyl sticker and 3d printing business, works on his ski boat, and enjoys the Schuylkill River. He is the proud owner of a 2002 330i Sedan and a 2004 325xi Sedan both in Schwarz Black and an Orange 1980 Chevy Camaro, "Clementine".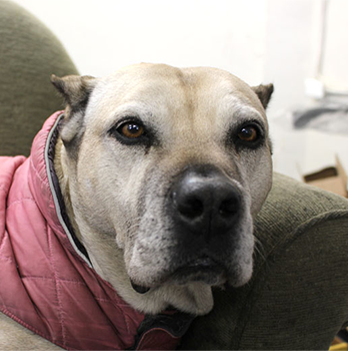 Honey Weaver - Security Guard
Honey is a Presa Canario mastiff female with fawn coloring. We adopted her from Brooklyn Animal Control in 2008. She has been working at Prussian Motors since its inception. She provides office security and friendly customer service (if you have food). Honey likes summertime, rolling in the grass, and meat. Dislikes are cats, water, and small dogs.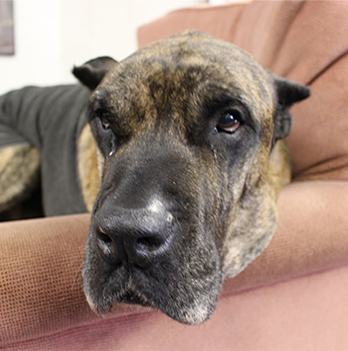 Emerson Hansen – Couch Warmer
Emerson was adopted out of North Carolina in 2011. He is also a Presa Canario mastiff like Honey. He has a brindle coat, or tiger stripes as we call them. He loves coming to work everyday with his humans and keeping the couches warm. Emmy likes cuddling, tipping trash cans, and bread. Dislikes are being alone, baths, and hands that don't pet him.